From Bangkok to Hua Hin, you can easily reach within 3 – 4 hours and then enjoy many attractions were located in this city. So, today we have listed the 15 places that you should visit in this charming city.
No.1 Hua Hin Railway Station
When you take a train heading towards Southern of Thailand, you should not miss out to stop by at the historic Hua Hin Railway Station. The Hua Hin Railway Station is considered as the most impressive station in Thailand. You can find the majestic royal waiting rooms that allow you to enjoy seeing during visiting the station. The royal waiting room is an important part of this place because it was once used to welcome the King and the Queen during their visit Hua Hin.
On the site, you will see the wooden buildings painted in bright colour which is a symbol of Thai design. Its architectural style contrasts with modern buildings and hotels surrounded the station.
Location: Hua Hin, Prachuap Khiri Khan Province 77110
Price: Free
No.2 Cicada Market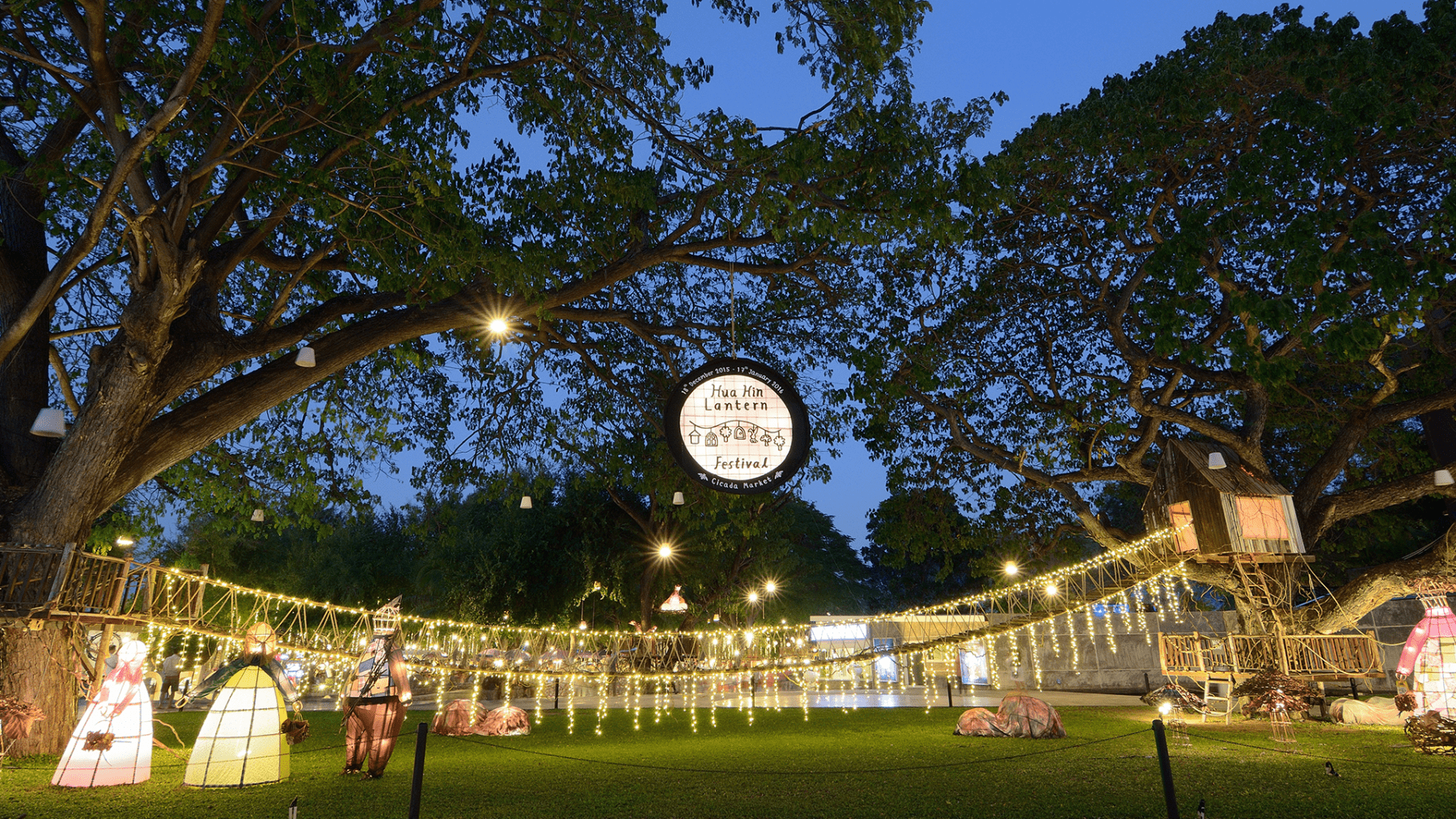 The market is divided into 4 sections: Fashion Art, Cicada Art Factory, Amphitheater and Cicada Cuisine. Fascinating lights, dance and theatre performances, and artist product definitely attract many tourists to enjoy shopping here.
Also, the Cicada Market is considered the best outdoor market in Thailand. Many local sellers and artist use this place to sell and display their talented handicraft product such as souvenirs, clothing and other fashion accessories. The Cicada Art Factory also presents various art exhibitions highlighting the works of young artists. The goal is to help generate interest and income for them.
Address: 83/159 Nong Kae, Hua Hin District, Prachuap Khiri Khan 77110, Thailand
Opening hours: From Friday to Sunday from 16h to 23h.
Price: The different exhibitions and shows are free.
No.3 The Baan Sillapin Art Village
Baan Sillapin Art Village is the cultural centre of Hua Hin that can immerse you into a true Thai cultural experience. At the art village, you can walk between the various art galleries, artists' studios and admire antiques. Many artists also present their painters, sculptors, and models.  Additionally, you can participate in art classes given by professional artists.
And if you are with your family and kids, you don't have to be worry because they conduct many DIY classes and activities that allow you to joy.
Address: No. 81 Moo 14 Tambon Hin Lek Fai, Hua Hin 77110
Opening hours: From Tuesday to Sunday from 10h to 17h
Price: Admission is free but there the courses are required to pay.
4- Pranburi Forest Park
The Pranburi Forest Park is the largest mangrove forest in Thailand. It is also known for the vast and dense forests and winding trails that lead visitors to the four corners of the park. This place includes two trails – raised wooden sidewalks – crisscrossing a dense forest to admire magnificent landscapes.
Address: Amphoe Pran Buri, Chang Wat Prachuap Khiri Khan 77220
Price: Free
Opening hours: Open every day until 18h
5. Hua Hin Hills Vineyard
Hua Hin Hills Vineyard is a winery house that is awarded as "Monsoon Valley" label. This place is surrounded by mountain ranges and vast expanses of greenery. This vineyard offers a delightful excursion, with wine tastings and possible restoration. You can then enjoy a good wine with a sublime view of the mountains here.
Address: 1 Moo 9 Ban Khok Chang Patana, Nong Plup, Hua Hin, Prachuap Khiri Khan 77110, Thailand – 45min from Hua Hin City Center
Opening hours: Every day from 9 AM to 6 PM
6. Khao Daeng Viewpoint
Another place where you should not miss out in Hua Hin is Khao Daeng Viewpoint. This place located in Khao Sam Roi Yot National Park. To enjoy the scenery, you are able to hike and reach the sublime point for having the 360 °   impregnable panorama view on the limestone cliffs.
A small tip for an even more magical view is climbing to the top of the mountain and watch the sunrise.
Address: Khao Daeng, Kui Buri, Prachuap Khiri Khan Province 77150 – 1-hour drive from Hua Hin.
Opening hours: Every day from 8 AM to 3.30 PM
7.Vana Nava Hua Hin Water Jungle
Are you looking for something to do with your family for your thrilling day? Vana Nana could be your answer. Just 5 minutes from downtown Hua Hin is the Vana Nava which is the first water playground in Asia.This park is organized as a tropical jungle with many attractions, pools and even the zoo to satisfy your family members or a group of friends.
And for the more exciting, you can find the largest toboggan in Thailand and the largest artificial waterfall in Asia !!
Address: 129/99 Soi Moo Baan Nong Kae, Nong Kae, Hua Hin, Prachuap Khiri Khan 77110
Hours: Monday to Sunday from 10 AM to 18 PM
Price: Adult: 1200 Baht / Child (less than 122) 800 Baht
10. Plearn Wan, Hua Hin
Plearnwan is also the major market of Hua Hin. It is considered as a vintage" market that sells everything such as clothes, gifts, and food. This market is inspired by the Thai Chinatowns that once settled in Hua Hin.
The Plearn Wan Village has an artistic atmosphere with many craft shops that tend to recall visitor to the atmosphere of Thailand in the period of 50s. It is also regarded as a vintage eco-village with unique architecture: what to do real good in the past.
Address: 38, Soi 40, Hua Hin Road, Hua Hin, Prachuap Khiri Khan 77110 Thailand
Opening hours: Every day from 11 AM to 12 AM
11.Seenspace Hua Hin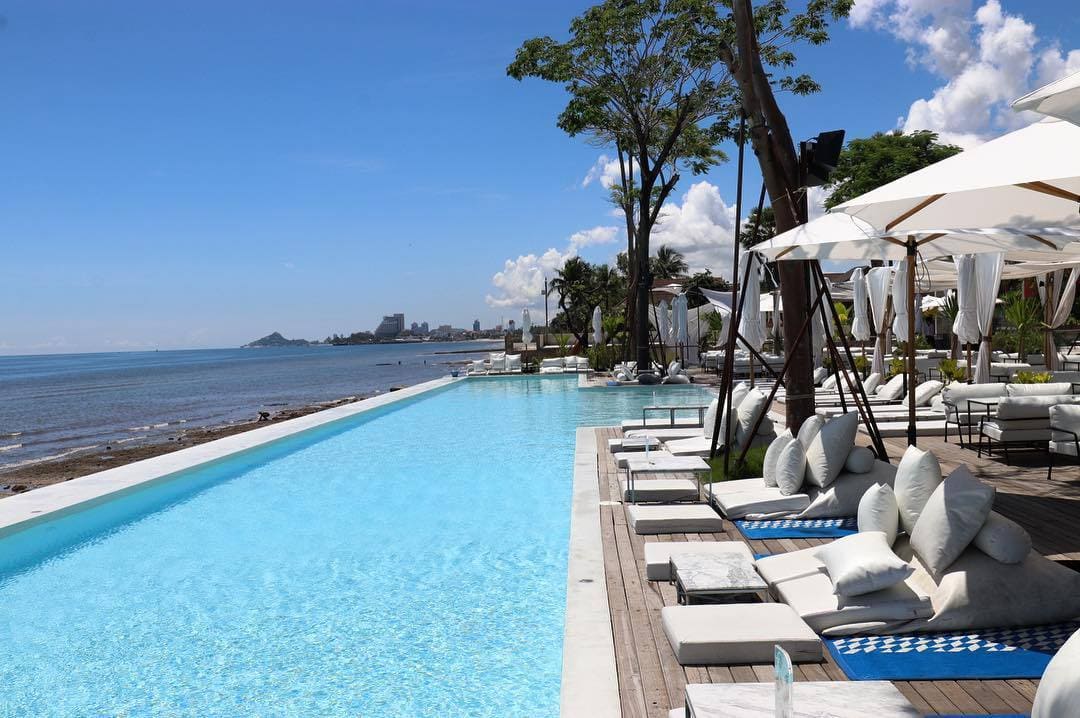 The Seenspace is Thailand's first seafront shopping centre located in Hua Hin. Visiting in this trendy spot, you can find nice cafes, restaurants, shops and a hotel that has modern decoration and refined architecture.
You can eat, play, relax, go shopping, have a drink in just only one place
Address: 13/14 Hua Hin 35, Hua Hin District, Hua Hin District, Prachuap Khiri Khan 77110, Thailand
Hours: Monday to Friday from 11 AM to 9 PM
Saturday from noon to 22h and Sunday from 10h to 22h.
12 The Maruekhathaiyawan Palace Cha-Am
In Hua Hin, you can also discover the Maruekhathaiyawan Palace, Cha-Am,  which is a royal palace and the former residence of King Vajiravudh – Rama VI. Also, you will be amazed by the beautiful architecture at the 16 teak buildings. This palace is located in the heart of lush greenery overlooking the majestic beach.
Address: 1281 Thanon Phet Kasem, Cha-am Tambon, Amphoe Cha-am, Chang Wat Phetchaburi 76120
Hours: from 8.30AM to 6.00 PM
13.Huay Mongkol Temple
The Huay Mongkol Temple is the Buddhist temple that presents one of the largest monk statues, Luang Phor Thuad, the legendary monk from southern Thailand that revered his enlightenment and ability to perform miracles.This place is very famous among Thai people who go to pay a tribute. In addition, the complex also houses a Buddhist temple.A place is recognized as serenity, so do not hesitate and go visit it.
Address: Thap Tai, Hua Hin, Prachuap Khiri Khan Province 77110 – located only 10k from Hua Hin.
Opening hours: From 5 AM to 10 PM
14- The Venezia: Shopping centre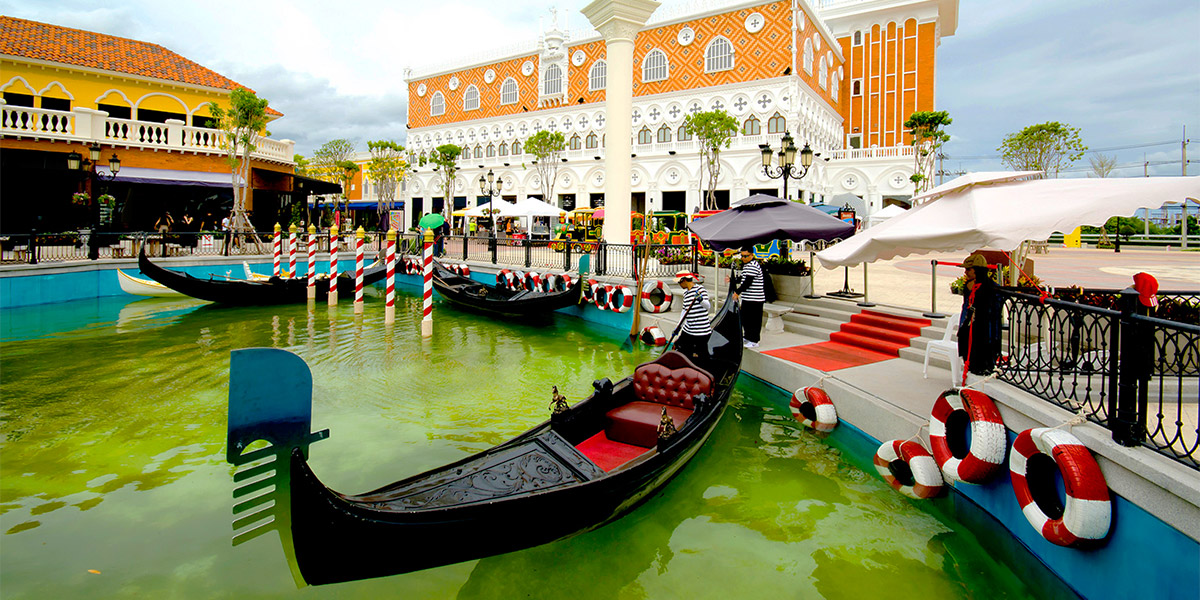 Another major place to visit when you go to Hua Hin is The Venezia, a commercial centre immersed by Italian culture and Venice inspiration. At this place, you can ride a gondola to explore many shops. You will also find restaurants and several attractions such as a mini-farm, a cinema and a dinosaur park. Whether you travel alone or with friends or family, you will have a great time for sure.
Address: 1899 Phet Kasem Rd, Cha-am Tambon, Amphoe Cha-am, Chang Wat Phetchaburi 76120
Opening hours: from 10 AM to 8 PM
15 Tham Khao Luang Cave
To finalize the TOP 15 here is the last place that you absolutely should visit. The Tham Khao Luang Cave located by 1 hour driving from Hua Hin. It is probably one of the most remarkable caves in Thailand and is one of the UNESCO World Heritage Site as well.
At the entrance, you will meet monkeys that are waiting for you to welcome you. And after you enter the cave, you can follow the way to reach the point which has a spectacular view. There are many stalactites, glittering light from the ceiling, and more than 180 golden Buddha statues.
Address: Thongchai, Mueang Phetchaburi, Phetchaburi Province 76000
Hours: Everyday from 7 AM to 6 PM
Price: Free где лучше взять рефинансирование