When it comes to Thailand, the image that comes to your mind is most probably paradisiac islands, sandy beaches, palm trees and turquoise water. Obviously you can find all this and that is no secret, but the Kingdom of Siam has much more to offer to its visitors.
Indeed, in Northern Thailand you will find breathtaking landscapes ranging from mountains to rice and tea plantations, temples with unique architectures and an energy as special as is is authentic.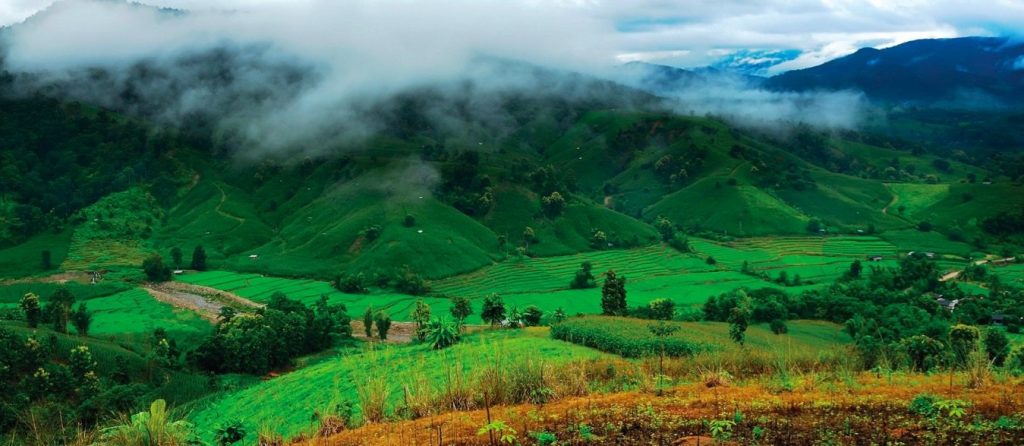 Chiang Mai, the capital of the North is the most popular and touristic destination of this region. Thus, through this article we want you to discover unique and remote destinations that offer real wonders to the eyes. Moreover, Chiang Mai is the most common starting point to reach these destinations as it is ideally located, a few hours of transport only to get anywhere.
Between treks, beautiful temples, waterfalls, and panoramic views, your discovery of Northern Thailand will be an experience you will never forget.
Here is for you a list of 15 unmissable places to visit during your stay in the Northern Region of the Land of Smiles.
1. Phu Chi Fa
This is one of the most beautiful views that Northern Thailand can offer and also one of the least visited by foreigners among those described in this article. Indeed, many tourists go on site to this magical place, but it is mostly Thai tourists.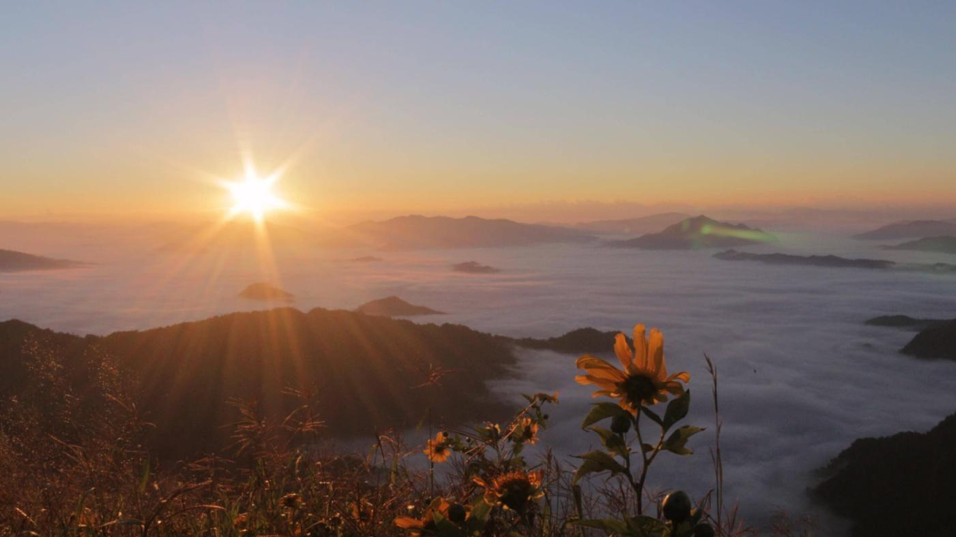 ➡️ To get there, we advise you to start your journey from Chiang Rai and from there it takes approximately 1h40. The best time to arrive there is at sunrise and therefore we strongly advise you to leave at 3:30 AM as the barrier at the entrance of the domain may be closed adding 30 minutes of hiking to the destination. But rest assured, once there all your efforts will be rewarded by an unforgettable view.
📍Location : Google Maps
2. Doi Luang Chiang Dao Wildlife Reserve
If you are into long walks ending beautifully with extraordinary views, you will love the Doi Luang Reserve. The single way to reach the top of Thailand's 3rd highest mountain is about 7  km. For this reason, it is generally recommended to hire a guide and camp at the top for the night. This way, you will be able to live a moment that you will never forget: watching the sunset at the top of this magnificent mountain.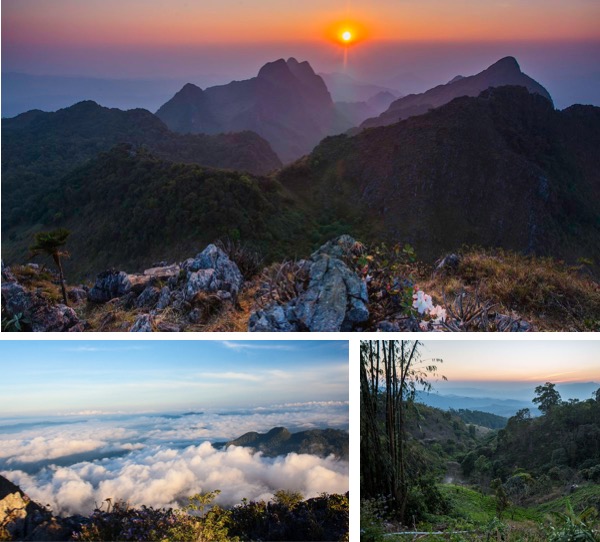 ➡️ The reserve is approximately 1h30 away from Chiang Mai, travelling by car.
📍Location :  Google Maps
3. Mae Hong Son
Mae Hong Son is the westernmost region of Northern Thailand. It is a region generally described as more remote and authentic than most of its neighbors like Chiang Mai or Chiang Rai.
Full of surprises, beautiful scenery and incredible activities, we suggest you to visit it if you are in Northern Thailand. You will have the chance to meet the Kayan people and their long-neck women, visit the tea farms and cafes on the terrace in the village of Ban Rak Thai and of course, you will also be able to admire many temples and enjoy hiking while being blown away by spectacular views over this region.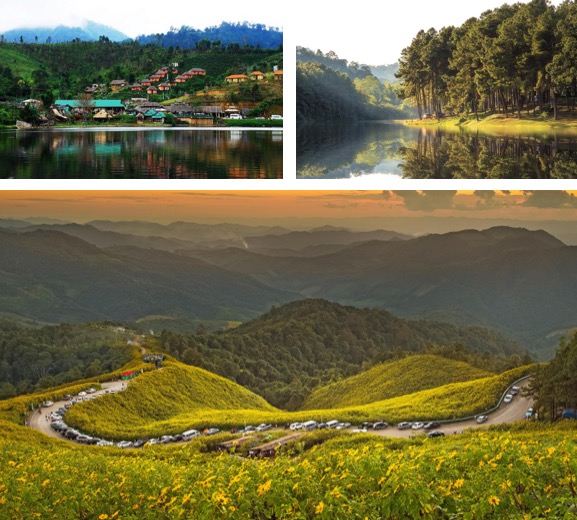 ➡️ For motorcycle lovers, the famous loop of Mae Hong Son can be a good idea to discover some of the northern regions, starting with Chiang Mai, passing by Mae Hong Son and ending with Pai before returning to Chiang Mai. This loop will offer you many points of view, roads in the mountains and amazing landscapes to discover on this road of more than 600 km long.
📍Location :  Google Maps
4.  Wat Chaloem Phra Kiat Phrachomklao Rachanusorn, Lampang
Located at more than 1000 meters above sea level, this pagoda collection is simply astonishing. This temple, also called Wat Phra buddhabat, is known for footprints that would have belonged to Buddha himself and were discovered in the 17th century.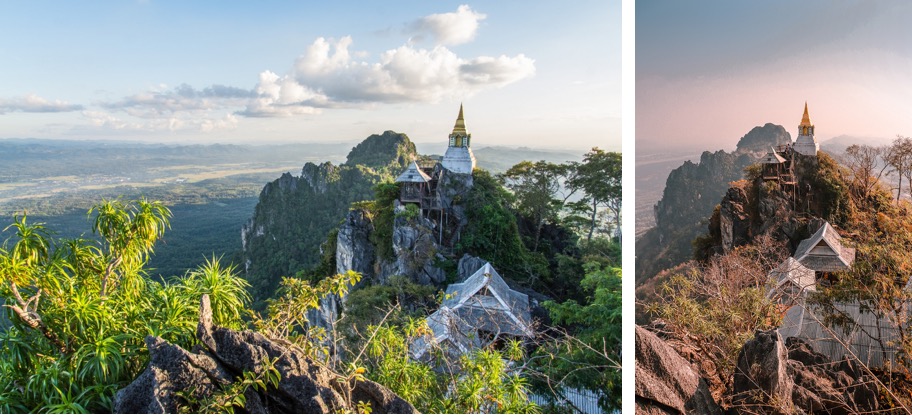 The area can be divided into three parts; The first is where the monks live and where the main road stops. The second is where you can see the footprints and the magnificent building surrounded by golden stones. Finally, the third, at the top of the mountain, offers one of the most beautiful views of Thailand.
➡️ You can go there by car and it will take 2h30 from Chiang Mai. 
📍Location : Google Maps
5. Sri Lanna National Park, Chiang Mai
This park introduces you to all the benefits of nature: you can go rafting, hiking, visit the many waterfalls, the lake and much more.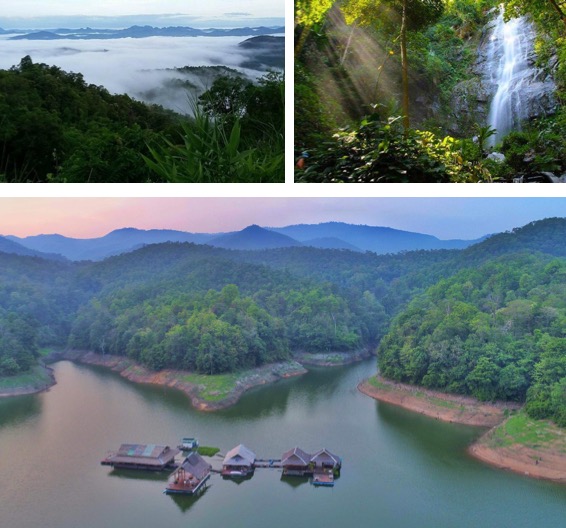 Many options of accomodations are also available, you can either camp, stay in a hostel or spend the night in a floating bungalow on the beautiful Lake Mae Ngat. There are many activities you can do around such as bike trails, beautiful caves to explore or kayaks for rent.
➡️ It is easily accessible with transportation and it is located 1h away from Chiang Mai.
📍Location : Google Maps
6. Mon Jam, Chiang Mai
The beautiful hidden gardens of Mon Jam offer breathtaking panoramic views. On several acres you can admire many flowers that are here to replace the opium that was once produced among cabbages and strawberries.
You can also try the jungle coaster, an unusual attraction and usually very appreciated.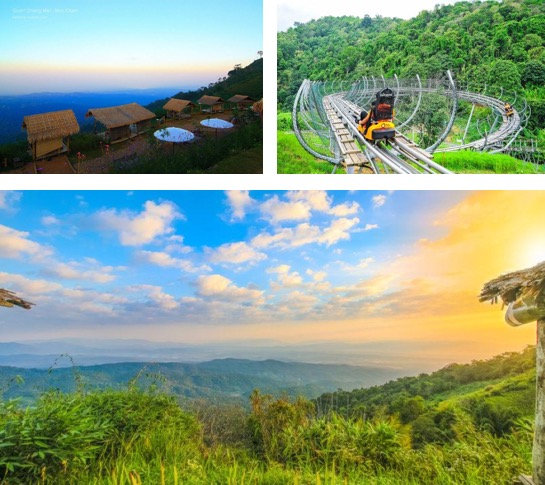 ➡️ This beautiful place is only 45 minutes away from Chiang Mai. 
📍Location : Google Maps
7. Doi Inthanon
Not far from Chiang Mai is Doi Inthanon, the perfect spot for mountain and nature lovers. It is the highest mountain in Thailand with 2565 meters above sea level and you will also discover twin temples for the king and queen.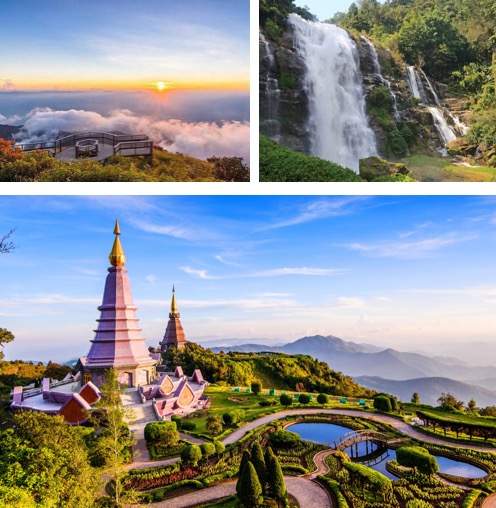 This beautiful mountain can also be visited with guides, and some companies even propose to pick you up directly at your hotel in Chiang Mai and bring you back once you finished.
There, you can also see one of the most beautiful waterfalls in Northern Thailand.
➡️ The mountain is located 2h away from Chiang Mai by car.
📍Location : Google Maps
8. Mae sai
Mae Sai is mainly known for its location, indeed, located on the Burmese border, it is an important crossing point to cross the border by Ruak, a tributary of the Mekong.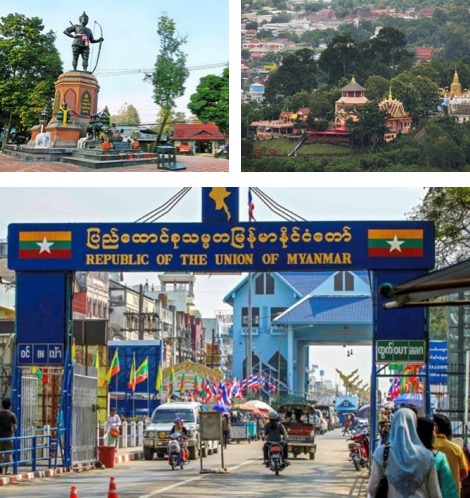 But beyond this border, the city is also interesting for its many temples as for example, the curious Temple Of Scorpions (the Wat Phra That Doi Wao). Also don't forget to wander across the market which is found to be even more financially attractive than other local markets due to its proximity to Laos and Burma.
➡️ It takes 4h45 to go to this city from Chiang Mai, by car.
📍Location : Google Maps
9. Koh Luang waterfall
One of the most beautiful waterfalls in Northern Thailand is undoubtedly Koh Luang. Even though the photos may suggest that this waterfall is not very impressive, do not be fooled. Indeed, with its 20 meters high and its turquoise water point, this place will seduce you without a doubt.
➡️ It is located 3h South from Chiang Mai, in the middle of an animal sanctuary.
📍Location : Google Maps
10. Chiang Rai
Chiang Rai, often described as Chiang Mai's little sister also has a lot to offer in its surroundings: many waterfalls, splendid hikes, but especially unique and exceptional temples such as the blue temple and the white temple recognized in the region as being among the most spectacular of the country.
Rice tea plantations in Chui Fong are also a wonderful place and a must-see.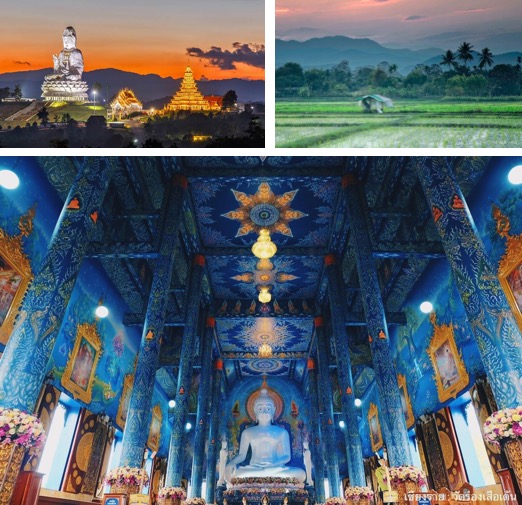 ➡️ To get there, expect a 3h30 drive from Chiang Mai. 
📍Location : Google Maps
11. Pai
Just like Chiang Rai, Pai is a small town in Northern Thailand that attracts more and more tourists for  its charm and the many activities you can find on site. You can visit beautiful waterfalls such as Pambok or Mo Paeng, or visit the caves of Tham.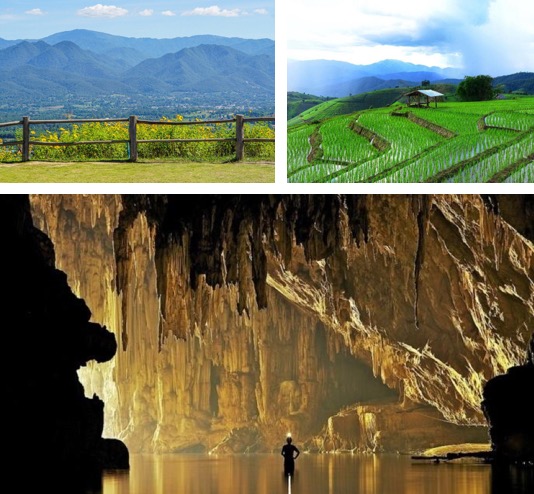 ➡️ Pai is 3h away from Chiang Mai but beware, with its 300 turns, you could easily and quickly get sick and therefore you should anticipate the trip by taking some precautions.
📍Location : Google Maps
12. Sukhothai (Phitsanulok)
Sukhothai is the southernmost city in Thailand's northern region, and if you visit it, you must definitely stop at the Historical Park which contains a huge number of impressive and colorful ruins in an area full of history.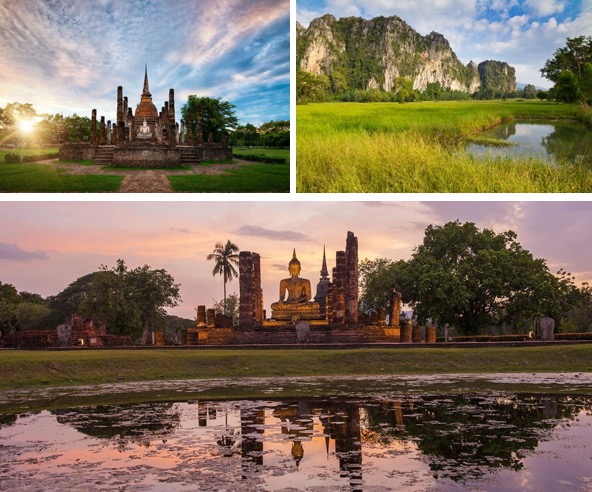 You could also take the opportunity to visit Phitsanulok, a small town nearby and also very charming.
➡️ To get there, you will need a 4h30 drive minimum from Chiang Mai.
📍Location : Google Maps
13. Phayao
The main attraction of Phayao is without a doubt its lake and its surroundings. But you can also find many temples as in most places in Thailand. The best known of these is the Analayo Thipphayaram temple, with many Buddha statues and pagodas. The lake has a reasonable size of 20 sq.m and offers a stunning scenery.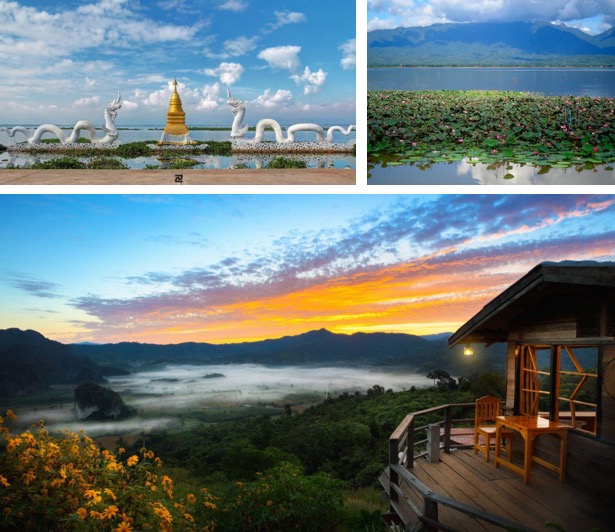 ➡️ To get there, expect approximately a 2h40 drive from Chiang Mai.
📍Location : Google Maps
14. Mae Wang
Finally, Mae Wang is a province of northern Thailand, with many activities available and even if it used to be a mostly unknow destination to all tourists, it is now attracting more and more tourists for various reasons.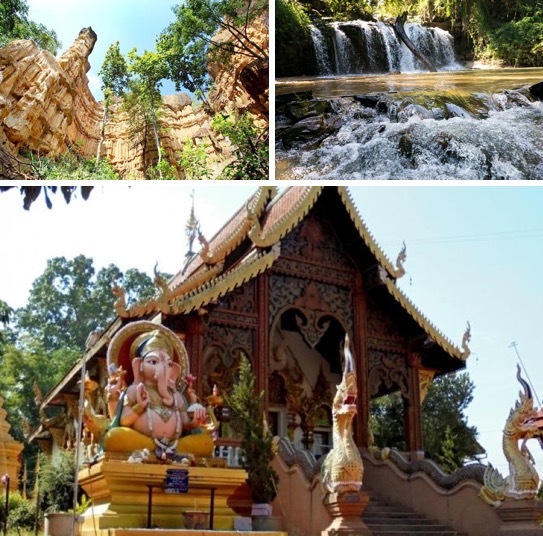 You can try some of the most popular activities in the area, that is, hiking and rafting. Otherwise, you can also go to the national park where you can admire natural and unique geological formations, or even treat yourself with an unusual and interesting activity: the Ganesh museum.
➡️ Mae Wang is located 1h away from Chiang Mai.
📍Location : Google Maps
15. Ban Pa Pong Piang
This small hamlet near Doi Inthanon will offer you an astonishing view worthy of a postcard. In addition, this place is still little visited and therefore brings peaceful vibes to each person who visits. With its rice terraces and stunning views of the mountains, you will still dream of this place long after leaving it.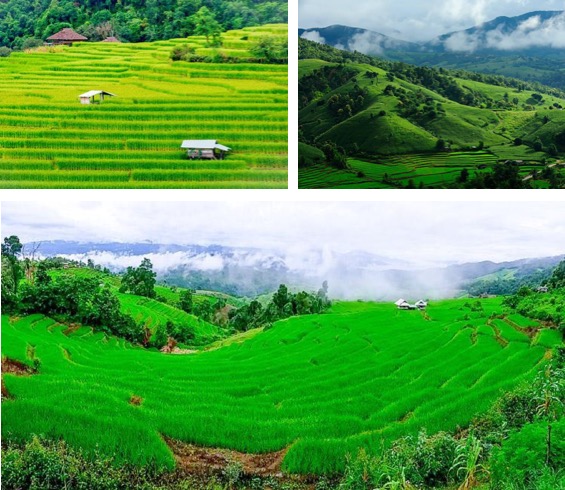 ➡️ To get there, expect a 3h30 drive from Chiang Mai. 
📍Location : Google Maps получить деньги по паспорту срочно