Discover Club Quarters, a new investment opportunity in Bang Saray! A superb residence with an ideal location and superb investment conditions including a 8% rental guarantee per year, read more below!
Bang Saray, a perfect neighborhood to invest in the property market
Bang Saray is above all a pleasant neighborhood where calm and tranquility reign and where sea and mountains marry perfectly to offer one of the most beautiful surroundings in the region.
Bang Saray is also a lively neighborhood where you can find numerous activities for all ages and tastes; from relaxing on the beach to visiting a vineyard or going on a boat trips or an excellent meal by the sea, you will never get bored!
On the economic front, Bang Saray is THE next sector to experience strong growth in the Pattaya area thanks to its ideal position on the Eastern Economic Corridor, allowing future buyers to take full advantage of the strong development of the area and offering the investors the opportunity to acquire a high-end property, on a prime location, and offering excellent rental income or capital gains opportunities. It is for these reasons that Club Quarters is located in the heart of Bang Saray, just 2 minutes from the city center, 5 minutes from the beach, 20 minutes from Pattaya airport and the future high speed train line currently under construction, 30 minutes from downtown Pattaya; or just a few hundred meters from the Sukhumvit Road, or various current and future highways connecting major cities around (Bangkok, Rayong, etc.).
To learn more about this beautiful neighborhood and the reasons for its success, check out our article dedicated to this little piece of heaven!
Club Quarters: concept and features
General information:
Type of residence

: condominium

Ownership

: freehold

Location

: Bang Saray

Land size

: 3,200 m2

Construction dates

: 2019 – 2022

Building

: 1

Floors

: 5

Number of apartments

: 88

Types of apartment

: studio, two-room, two-bedroom
5-star services and facilities:
Infinity pool 25 meters long with juice bar and lounge
Fully equipped gym
Shuttle service
24/7 concierge service
Library
Yoga room
Parking with valet
24/7 security service with guards, CCTV and key-cards
And much more!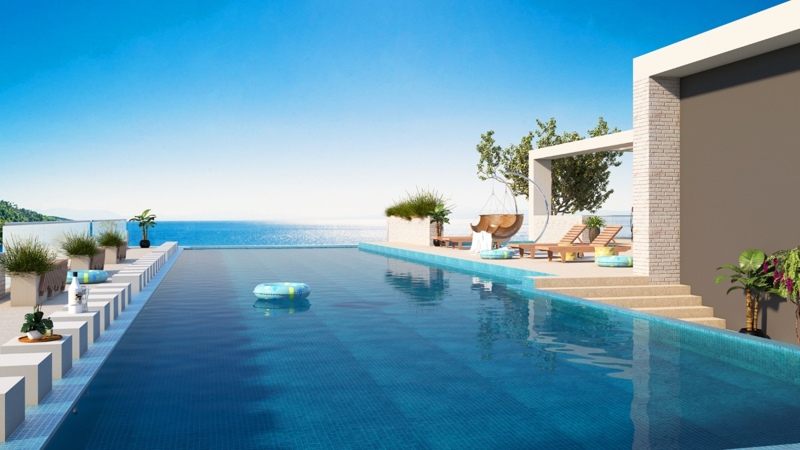 Club Quarters and its great investment conditions!
As you can see, Club Quarters is an ideal product to invest in the land of smiles, the developer offers a great flexibility with no less than 3 possibilities to invest in the residence!
1. Spread your payments over the entire construction period and receive a rental guarantee of 8% per year for 3 years from the end of construction while being able to use your apartment two weeks per year. After 3 years you can choose to get the apartment back or to leave the management to the developer!
2. You have the funds and do not want to wait until the end of the construction to start generating incomes? No problem, the promoter offers you the opportunity to make a full payment at the signing of the contract and immediately benefit from a 8% cash-back per year during construction! At the end of construction, you will have the choice between leaving the management of your apartment to the developer or your real estate agent, or to live in the apartment!
3. You want to buy an apartment for yourself and want to spread your payments over the duration of the construction? No problem, it is also possible!
These excellent investment conditions and flexibility combined with the excellent settings offered by the area and the fact that the number of apartments in the neighborhood is still very limited, while demand is constantly increasing; make Club Quarters a great program in which to make a turnkey investment.
A variety of apartments for all tastes
Studios (25.20 sqm)
One-bedrooms (from 51.00 to 63.00 sqm)
Two-bedrooms (from 76.50 to 103.40 sqm)
As you can notice, the apartments are more spacious than in most new residences across the country! Which makes Club Quarters, in addition to an excellent investment product, a residence that is also ideal for acquiring a primary or second home! As good news never comes alone, all apartments are sold fully furnished and equipped with a smart home system!
Do not wait and ask for more information about this great opportunity:
---
Visit our dedicated for the latest news about Pattaya's real estate market! как можно оформить дебетовую карту