Living In Hua Hin
There is an ever-increasing expat population in Hua Hin. It is said that there are from 3,000 to 5,000 expats and around 80,000 Thais living here. With well over 1,000,000 tourist arrivals each year, it often seems like more. Many expats from Europe and England have retired here while others have second homes. This has made what was a sleepy little fishing village a much busier place. While still mainly a tourist resort for Bangkok Thais, there is more and more an international flavour to Hua Hin and makes living in Hua Hin more interesting.
The Thai élite began building second homes in Hua Hin when the railway station was completed in 1923 and later generations began buying condos in the 1990s. The expats really started moving in after the tsunami in the Andaman Sea in 2004. There are many housing estates, luxury condominiums and real estate agents that cater especially to foreign buyers. Prices range from around $100,000 through well over 1,000,000 depending on location and amenities.
With the influx of Farangs (Thai for foreigner) there are more and more services aimed at the Farang community. There are local foreign-language newspapers, usually owned by real estate agents, Internet forums for Hua Hin residents, usually supported by real estate agents, Italian, German and British delicatessens. There are English language radio stations taking requests, even by SMS, and local cable TV offers British, German, Italian, French, Japanese, Korean, Chinese and Murdoch takes on the news.
One feature of Hua Hin is the extraordinary proportion of Farang of Scandinavian origin, either tourist, snowbirds who are here for the winter months, or full-time residents. We have people from Sweden, Finland, Norway and Denmark. At times when you see the number of Scandinavian oriented business, you might think you were in Helsinki or Helsingborg rather than Hua Hin! Many menus sport the likes of Gravad Lax and Panbiff. One of the most cheering sights in town is the girls from Findressor and Golden Orchid tours setting out on their rounds with clipboard and briefcase. Why do we have so many Scandinavians, probably because in the early '90s Scandinavian tour companies were very active in providing holidays in the newly opened large hotels such as the Melia, now the Hilton.
STOCKING A HOME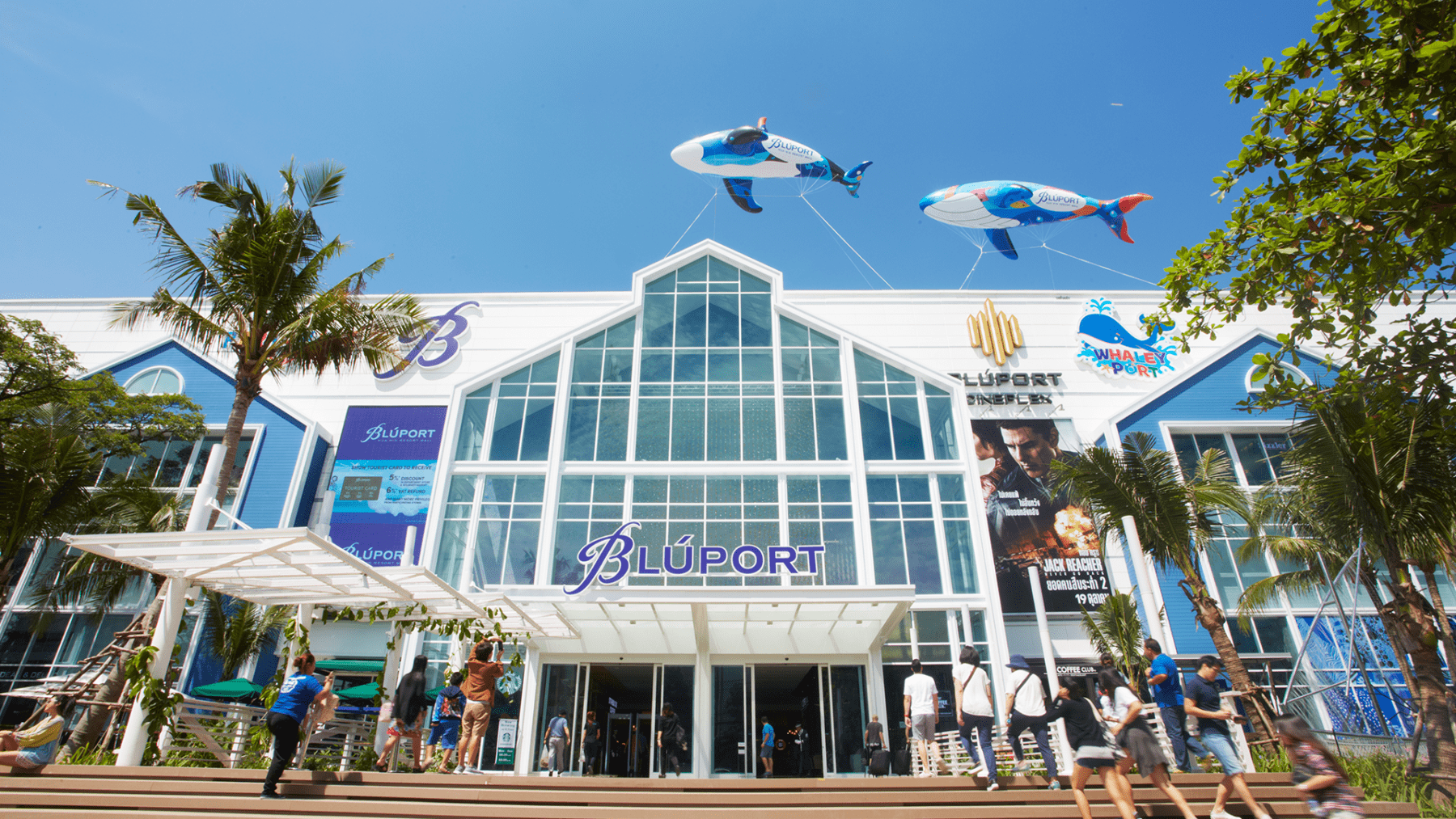 Now that Villa Market has opened in Hua Hin there's less and less reason to travel to Bangkok for provisions. Villa is probably the best source for imported goods including (expensive) fresh vegetables from Japan, Australia and the US–they open around 0800. There's a new Villa Supermarket at the Venezia Mall, just north of the entrance to Palm Hills. Technically in Cha-Am, it is welcome by those in the north of Hua Hin who no longer will have to travel through town to get to the original location. The Villa at Venezia now opens at 1000.
The Market Village Mall has a Tesco/Lotus and Home Pro and many restaurants and bakeries. Gee's Market and the tried and tired Hua Hin Shopping Mall stock many necessary items and are often easier to get in and out of than the Malls, especially on weekends. With a second Tesco/Lotus and a new restaurant/hotel oriented Makro (with a huge choice of spices and restaurant goods) now open, just about all bases are covered. A new, up-scale mall will soon start construction south of town that will compete with the best in Bangkok. This should satisfy the high-rollers in town.
A Big C Market has opened on the Pa Lau Rd, about 1 km west of the railway crossing on Chymosin Rd. Like the Tesco/Lotus Market south of town on Phetkasaem across from Soi 114, these two shops are not the full-sized superstores but do offer fresh produce, meats, and small bakeries. Both are larger than the average convenience store–perhaps a quarter-size of the super centres. They also open early, 0700 for Tesco and 0800 for Big C, which is great for early risers who don't want to wait until the Tesco at Market Village opens at 0900. The Big C centre also has a Dunkin Donuts, Pure Pharmacy, and KFC.
There are several speciality furniture stores in Hua Hin now offering teak and other exotic wooden furniture for a premium. Unless you're interested in travelling to Chiang Mai and having your goods shipped back to Hua Hin, you'll probably not mind the premium. The Index Living Mall can outfit an entire home from bedroom to bathroom to kitchen and their discount sibling, Winner, is just down the road from Index. Home Pro is a DIY's delight with everything from lighting to paint to tiles to alarm systems. The oldest interior design company in Hua Hin is The Cabinet which, as well as fine kitchens, can also outfit your entire home.
One area that was lacking in Hua Hin, and pretty much in Thailand in general, was a source for kitchen gadgets. If you were looking for various pans for baking, digital kitchen scales, or other new goodies you see on the cable cooking shows, you'd end up going to Bangkok and probably be disappointed even then. The new Makro has solved much of that problem. Unlike any other Makro in Thailand, the one in Hua Hin has everything from imported beef, lamb, and live lobster to digital scales, ice cream makers and vacuum packing equipment.
Tesco Lotus offers Thai-grade beef but Villa Market has Thai French and imported beef and lamb. Makro also offers imported beef and lamb. The Boucherie – Jean Pierreopened in 2009 on Petchkasem Rd. but has recently moved to Soi 88. If you're coming from Petchkasem Rd, cross over the RR tracks, make an immediate right and then left to stay on 88 and you'll find the very friendly butcher about 500 meters or so down on the right (north) side of the road. They also carry Thai French beef and home-made sausages. It's a small shop with limited parking so keep a lookout or you'll miss it.
ACTIVITIES
In addition to the many activities listed on the other pages here, there are also pool and dart leagues, lawn bowling, and some pubs/restaurants have quiz nights. Many pubs are open late to watch European Football. There is a bridge club which meets two afternoons each week. There is a English speaking Rotary Club and a Women's Expat Group. A website for expat women, Chicky Net, has a group in Hua Hin. For more on other activities in Hua Hin, please check out the Things to do in Hua Hin page, here.
EDUCATION
For those with children, there are International schools using an English curriculum. There are also Webster International University and Stamford International University offering BAs and MBAs. These schools do not yet compete with the better international schools in Bangkok but standards are improving each year as demand increases and the schools mature. More information on Yam Saard School may be found here.
There are also schools offering Thai language lessons and other schools offering courses in everything from Thai cooking, fruit carving, Yoga, kiting, TEFL, Thai massage, Muay Thai, Kung Fu, Thai Chi and driving on the left.
Bookazine, Megabooks and Asia Books all have outlets in Hua Hin, offering English and European language books and magazines. International newspapers in several languages are available as are The Bangkok Post and The Nation for those attempting to keep up with the escapades of the powers that be in Thailand. There is a large bookstore at Market Village which has a large choice of books and magazines in Thai and a smaller selection of foreign books and Asia Books, at the front of the mall has a large selection of English language books. There are smaller booksellers along Petchkasem Road near the market offering some international papers and news magazines. Most of these shops also have maps of Hua Hin and Thailand. There is also a book corner at Villa Market with a wide choice of foreign books, magazines, and games.
BANKING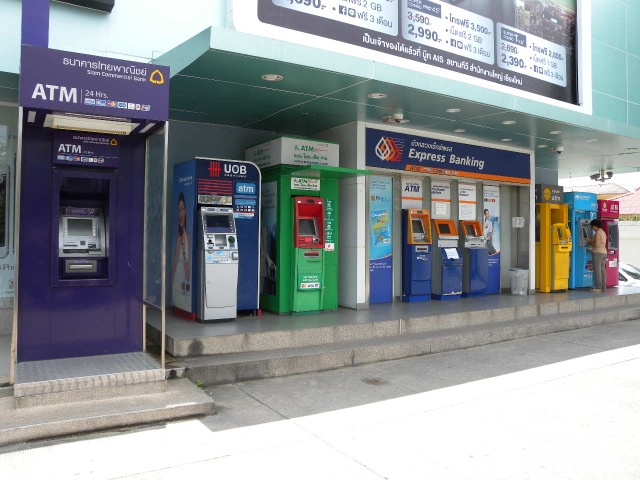 Bank of Ayudhya 032 511-120

Bangkok Bank 032 511-717

Thai Farmer's Bank 032-530-501

Krung Thai Bank 032 511-812

Siam City Bank 032-511-203

Siam Commercial Bank 032 532-421
Bank addresses will be listed shortly. In the meantime, this map shows the location of many banks. I will not attempt to list ATMs as they are everywhere. Every convenience store, service station, mall and market has several ATMs, not counting the ones on almost every corner downtown.
DENTISTRY
Cool Smile Dental Clinic 032 513-989

Dental 2000 032 536-957

Hua Hin Dental Clinic 032 531-510

Sudjit Dental Clinic 032 515-947
OPTICIANS
Opticians have taken over the niche of shops opening for no earthly reason why in Hua Hin. There are dozens of opticians here already and one national chain seems to be opening a new branch each month. It's like they're competing with 7-11 to see how many branches they can have with 100 meters of each other. Sort of like Starbucks in some western cities.
Chokechai Optical 081 378-2333

Pro Optic 032 511-117

Time Optic 032 511-360       
TAILORS
HOSPITALS
Bangkok Hospital has opened a large hospital in Hua Hin, greatly improving the quality of medical care here.
PROPERTY IN HUA HIN
There are many agents in dealing with property in Hua Hin. If you're interested in property in Hua Hin, they'll probably smell your money and meet you at the airport in Bangkok. There are luxury condominiums for sale with ocean views, luxury estates with ocean or mountain views. There are pool villas, garden estates, gated communities, golf course communities. If you want Balinese style, Mediterranean style, Mexican style luxury villas; they're all here. If what you want isn't here, someone will agree to build it for you.
The only problem is Non-Thais cannot own property (land/dirt–houses and condos are a different matter) in Thailand. Period. There are those who will sell you the house and lease you the land. A thirty-year lease is doable if done correctly. There are those who will give you a renewable lease on the land and this is tricky. If the lawyer is a friend of the contractor, the papers will look good but if push comes to shove, the legality of the
a contract may prove questionable.
Many buyers of Hua Hin property have set up companies and have bought the land and house in the company's name. The use of nominees in business has been a hot item in the news for a few years now and the legality of this method of purchasing property in Hua Hin is very questionable.
When it comes to property in Hua Hin, watch your back, be careful, and CAVEAT EMPTOR. Don't put your money down before you're absolutely certain as to what you're getting. Promises in real estate are made to be broken. If there's a chance you're going to get in a legal battle with your agent or contractor, be forewarned that he very likely already has some large and not so nice friends lined up and is not afraid to use them.
There are horror stories galore about problems encountered purchasing property in Hua Hin or simply getting a house built to the original and agreed to specifications. Many of these stories can be found on the various forums about Thailand and Hua Hin. That is, those forums where the topic hasn't been banned by affected advertisers.
This is not to say that there are not honest and reliable property agents and contractors in Hua Hin. It's just that what they say about lawyers holds true and in this case, you're going to need both a lawyer and an agent or contractor so…watch your back, be careful, and CAVEAT EMPTOR…
INTERNET
Internet service is readily available in Hua Hin. TOT, CAT and TT&T all offer various ADSL promotions for those with landlines and satellite service is available at a price for those without phones. In addition, there are many Internet cafes and many coffee shops, bars and restaurants offer free Wi-Fi for their customers. 3G and 3.5G are offered by AIS and DTAC and the rates are not that bad. SIM cards are available everywhere and prepaid data accounts can be set up in seconds. 4G is said to be available in 2013.
It has also been reported that Wide Access Co, an Internet service provider startup, is introducing Thailand's first free city-wide Wi-Fi access in Hua Hin under a five-year investment plan of 75 million baht. The open wireless network will offer broadband to all Hua Hin residents and tourists, covering the area of one square kilometre, to be expanded to eight square kilometres in the near future.
EMERGENCY NUMBERS
Fire 199

Police 191

Tourist Police 1699

Highway Police 1193

Hua Hin Police Station 032 511-027

Hua Hin Tourist Service Center 1155

Hua Hin Hospital 032 511-743

Hua Hin Red Cross 032 512-567

Hua Hin Railway 032 511-073



SEPTIC TANKS
Probably not a real popular subject but I noticed some very frantic searches on the site the other day for this. Most homes in Hua Hin have septic tanks and we often don't think much about them until it's past time to do so. So, here's a photo with a number you might one day need. Or, the next time you see one of these trucks in your neighbourhood, you might call him over.
TEACHING ENGLISH
The English teaching community is a visible part of the expat community, employed at the two local Universities, the Government schools, some private schools and the commercial college. There is a high turnover in teachers so the opportunity to teach English, science or math is ongoing. TEFL/TESOL teaching (Teaching English as a Foreign Language/Teaching English as a Second Language) is a sizeable enterprise in Thailand. CELTA courses are held mostly in Bangkok, but also in Chaing Mai, Phuket, Pattaya and Koh Samui. On occasion, TEFL courses are held in Hua Hin.
COMPUTERS AND ELECTRONICS
Banana Computer, on the third floor of Market Village, is the largest computer shop in Hua Hin but there are several smaller shops and kiosks in the mall and around the town. Apple, Samsung, LG, Nokia and several other name brands have shops and service centres for electronics and phones.
There are also many small shops selling mobile phones, tablets and accessories in the mall and around town. Most of the major brands have Care Centers in Hua Hin.
For TVs and other, larger, electronic equipment try Tesco-Lotus, Makro and the many other shops. Prices are often dearer in Thailand than in the US or many European countries but those on a tourist visa can the 7% VAT refunded at the airport on departure.
IMMIGRATION
The Hua Hin Immigration Office is located on the Canal Road, accessible via Petchkasem Soi 10. The office handles tourist visa extensions, retirement visas and the lot.  Hours are 0830-1630 (closed for lunch) займы без проверки ки с просрочками