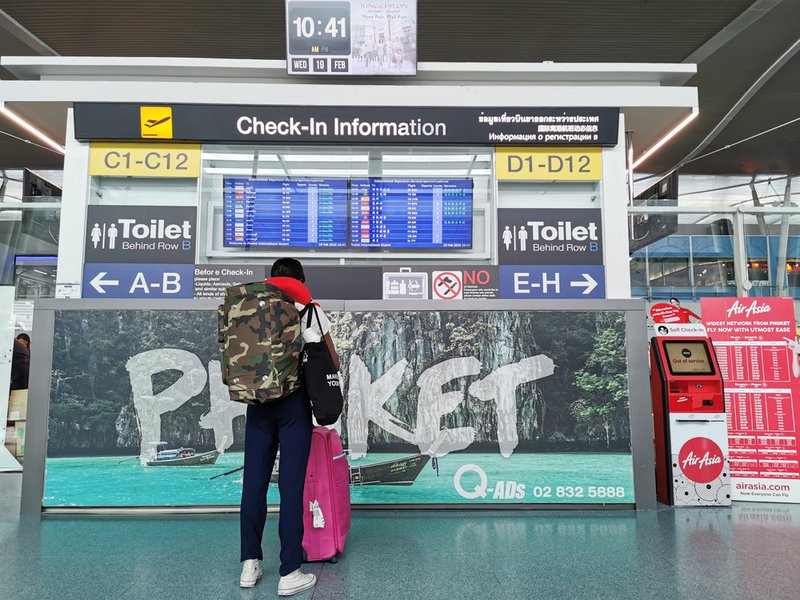 Are you planning a trip to Thailand? Read on to learn about the most recent travel advisories issued by Thailand's tourist authority.
Thailand Reopening
April 1 onwards, Thailand has lower down its travel restrictions to compromise the flux of Covid19.
The country has drawn up a plan for fully resuming its tourism industry. In the second, third, and fourth quarters of 2021, it will reopen to international arrivals in three stages. The items listed below are required for travel to Thailand.
a Certificate of Entry (COE) issued by the Royal Thai Embassy or Consulate
a COVID-19 health insurance policy with a minimum coverage of US$100,000
confirmation of Alternative State Quarantine (ASQ) hotel booking,
a medical certificate with an RT-PCR laboratory result indicating that COVID-19 is not detected issued no more than 72 hours before departure.
Tourists do not need to apply for a Thai visa in order to visit Thailand. Visitors from countries on the Visa Exemption List are no longer need to get a Thai visa in order to visit Thailand for tourism reasons as of December 2020. Foreigners will be allowed to stay in Thailand for 45 days, according to the Thai Immigration Bureau. Tourists in Thailand will be able to apply for visa extensions at any local immigration office. The COVID visa extension is valid for 60 days.
A fit-to-fly certificate will no longer be necessary for foreign visitors visiting Thailand. Only the COVID-19 RT-PCR test, which must be performed within 72 hours of the trip, is required. Thai nationals have the option of submitting either a fit-to-fly or a COVID-19 medical certificate.
Quarantine requirements
Stage 1: April to June 2021
All passengers, Thai and foreign, will be obliged to undergo a 14-day quarantine beginning May 6, 2021, regardless of nationality or immunization status.
During quarantine, vaccinated foreign tourists will be allowed to engage in recreational activities within the premises of their hotels or other lodging establishments, according to a "0+7 nights + designated routes" model.
They will also be permitted to participate in outside travel activities in certain regions in their chosen arrival location.
Arrivals from India are banned
Thailand has banned all Indians and other foreigners from entering the nation due to an unusual increase in COVID cases in India. Thailand has postponed the process of providing credentials of entry for Indian citizens and visitors arriving from India, according to a representative for the Covid-19 Situation Administration. The document is required for everyone planning to visit Thailand. Only Thais who have returned from India are still permitted to enter.
In addition, the Thai Embassy reports that three aircraft from New Delhi will be allowed to arrive in Thailand next month. The landing dates are May 1, 15, and 22. Thai people are being repatriated on these flights.
Travelers from high-risk countries
Travelers from countries where the SARS-CoV-2 virus has mutations and variations must quarantine for at least 14 days. The following are examples of such countries:
Republic of South Africa
Republic of Zimbabwe
Republic of Mozambique
Republic of Botswana
Republic of Zambia
Republic of Kenya
Republic of Rwanda
Republic of Cameroon
The Democratic Republic of the Congo
Republic of Ghana
United Republic of Tanzania
The number of quarantine days necessary for each traveler from these countries is decided by the date on which the Ministry of Foreign Affairs issues the person's Certificate of Entry (COE).
Stage 2: July to September
Thailand will abolish all quarantine rules in only Phuket for vaccinated passengers in the second step of the reopening plan, under the 'Phuket Sandbox' initiative, making it the first location to do so since the start of the COVID outbreak.
They will, however, be limited to activities in specific zones in Phuket for the first seven days, after which they will be free to visit other regions.
Under the '0+7 nights + specified routes' approach, vaccinated visitors traveling to other parts of Thailand will still be needed to quarantine.
Due to an increase in COVID cases, the Thai government was compelled to push out the reopening date to an undetermined date.
Stage 3: October to December
Krabi, Phang Nga, Surat Thani (Ko Samui), Chon Buri (Pattaya), and Chiang Mai will join Phuket in allowing vaccinated visitors to travel without fear of being quarantined.
Their travel activities will be restricted to designated regions in these destinations for 7 days before they are allowed to visit the rest of Thailand, much as they were in Phuket.
Stage 4: January 2022 onwards
The Thai government has hinted at a fourth step, which would be implemented in January 2022, in which any foreign visitor who has been vaccinated against COVID-19 and has a vaccine passport will be able to visit Thailand without being subjected to quarantine.
However, only the first three steps are now in place.
Where to quarantine in Thailand?
All travelers, both Thai and international people, must undertake a mandated quarantine in one of the Ministry of Health's approved Alternative State Quarantine or ASQ Hotels.
Phuket has declared that travelers who have not got the Covid-19 vaccine will be allowed to enter the province by land, but they will be required to self-quarantine. Meanwhile, air travelers must register their arrival in Phuket on the "www.gophuket.com" website and on the "Mor Chana" mobile application (available on both iOS and Android) to show proof of Covid-19 vaccination or evidence of a Rapid Antigen Test (RT-PCR) within 72 hours prior to arrival.
Travelers who arrive in Phuket without a vaccine certificate or a Covid-19 test result will be confined, with disease control officers issuing a ticket and submitting it to the Emergency Operations Centre (EOC) to supervise the quarantine.
Yacht Quarantine
Thailand's first "Digital Yacht Quarantine" project was inaugurated on March 10 by the Tourism Authority of Thailand (TAT) in partnership with Thailand's Digital Economy Promotion Agency (DEPA) and Thai yachting organizations in Phuket. Yachters will be able to complete their 14-day quarantine in the comfort of their own vessel.
Yachters should contact the Thai Yacht Business Association (TYBA) after arriving in Thailand to arrange for the required COVID-19 RT-PCR tests. Following the testing, each yachtsman will be given a smartwatch health tracker to wear 24 hours a day, seven days a week. Thai authorities will use the NB-IoT technology to monitor temperature, blood pressure, and pulse readings in real-time.
Golf Quarantine
In a similar vein, travelers can use their two weeks of quarantine to play golf at an approved course. The government has given the green light to two golf resorts: Blue Star Golf Course and Artitaya Golf Club and Resort.
SOURCE: WEGO